Main Statistical Office in Lviv region offers users the services of the library of statistical publications.
The library provides visitors with:

statistical information publications of the State Statistics Service of Ukraine, branch departments of MSO in Lviv region and as well as main regional statistical offices of Ukraine;

theoretical statistical and economic literature;

statistical and economic magazines and journals: "Statistics of Ukraine", "Economist", "Ekonomika Ukrainy (Economy of Ukraine)", "Economy of Agro-Industrial Complex", "Regional economy", "Ukrayina: aspekty pratsi (Ukraine: aspects of labor)", "Finansy Ukrainy (Finances of Ukraine)", "Voprosy Statistiky", etc;

periodical issues;

encyclopedic, statistical, economic and spelling dictionaries, thesauruses;

statistical and economic publications of other countries in foreign languages (UK, Canada, Russia, Poland, Germany, Sweden and others), Eurostat.
The library operates on the principle of a reading room and is equipped with work places, and offers users:

acquaintance with statistical information;

acquisition of statistical publications (in paper and electronic forms);

order of statistical publications according to the Catalogue of the publications of Main Statistical Office and which are not out of print yet;

order of statistical surveys;

order of a certain thematic information and analytical materials (statistical information);

Xerox (copy) services.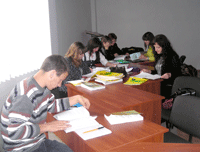 Library is destined for a wide range of readers:
for MSO workers in Lviv region;
for outside visitors: researchers, teachers, graduate students, etc.
Full Address:
4 V.Chornovola Avenue, building I, room 20
Lviv 79019 Ukraine
If you have any questions, please see Library staff or call/talk to

(032) 258-59-11
Working hours:
10:00 – 17:00 (10:00 – 16:00 on Friday),
13:00 – 14:00 (lunch break),
days off – Saturday, Sunday.