| | |
| --- | --- |
| | TOPICS |
| | |
| --- | --- |
| | Domestic trade, services |
Tables
Graphs
Databases
Glossary
Infographics

Retail trade turnover (Y)
Retail trade turnover (M)
Retail turnover of enterprises (Y)
Wholesale turnover of wholesale enterprises (Y)
Volume of services sold by major type of economic activities (Y)
Main indicators of enterprises' activity of the services sector (Q) <!-Main indicators of service enterprises activity-->
Percentage increase (decrease) in retail trade turnover (previous year=100%) (Y)
Structure of sold services volumes by type of economic activity (Y)
Retail trade turnover indices (corresponding period of the previous year=100%) (M)
Turnover indices of retail trade enterprises (2007=100%)
Retail turnover of enterprises per capita
Turnover volume indices of retail trade enterprises (2007 = 100%)(M)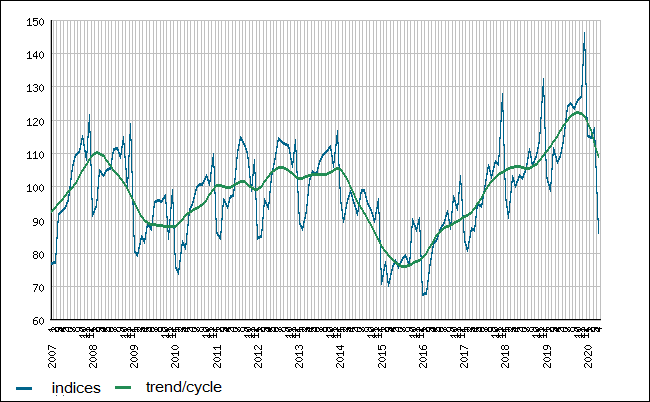 Retail turnover of enterprises
2018, per capita UAH
Glossary of statistical terms

1.
Catering industry
is a type of economic activities of business entities regarding provision of dining services to meet the consumers' needs in catering industry establishments (facilities) with or without leisure activities (codes according to KVED – 55.3, 55.4, 55.5).
2.
Catering industry turnover
is sales of the purchased goods and retail trade in own-produced goods through catering industry network (restaurants, cafes, bars, canteens, etc.) directly to the population. Retail turnover of catering industry includes food products dispatch from catering industry network and retail chain to establishments of health care, social security and education (hospital, preventive institutions, recreation centers, residential care homes for the elderly and disabled, establishments of general education, preschool education, boarding schools) to arrange catering for the respective population segments.
Catering industry turnover includes retail turnover of business entities - legal entities and individual entrepreneurs that carry out activities in catering industry.
3.
Retail facilities
include units of the retail chain (stores, pharmacies, tents, stalls, gas stations) with an independent balance sheet, as well as those that are on the balance sheet of enterprises-legal entities.
4.
Retail trade
is a type of economic activities of business entities in sale (without processing) of new and used goods intended mainly for consumption by citizens (private persons) or households to the population in stores, department stores, shops and stalls, parcel trade companies, commercial intermediaries, etc. (codes according to the Classification of Types of Economic Activity (KVED) – 50.10.2, 50.30.2, 50.40.2, 50.50.0, 52.1, 52.2, 52.3, 52.4, 52.5, 52.6).
5.
Retail trade turnover
includes retail turnover of economic entities - legal entities that operate in retail trade and estimated sales volumes of consumer goods in markets and by individual entrepreneurs
6.
Retail turnover
Retail turnover is sales of consumer goods directly to the population (both for cash and for paychecks of banking institutions, bank payment cards) through arranged consumer market, i.e. a specially arranged trading network (stores, pharmacies, booths, kiosks, refueling stations, street hawking and retail delivery trade) by all active enterprises, including commercial intermediaries. In addition, retail turnover includes sale of food products through trade network to institutions, organizations and enterprises for catering the population segments they service (in sanatoriums, children's institutions, hospitals, etc.) Retail turnover is determined in actual sale prices at the time of the goods dispatch to the buyer, regardless of the payment time, including sale of goods received by the trade enterprise (object) under the terms of commission (consignment) contracts.
7.
Retail turnover of enterprises per one person
Retail turnover of enterprises per one person is the ratio of retail turnover volume vs average number of enumerated population.
8.
Total sales of consumer goods
include retail trade and catering industry turnover.
9.
Volume index of retail turnover
is a relative indicator that characterizes the change in the actual turnover volume over time at comparable prices. Change in the turnover over time takes place due to the goods sold and change of their price.